Universal Life Church Online Seminary Distance Learning Course Programs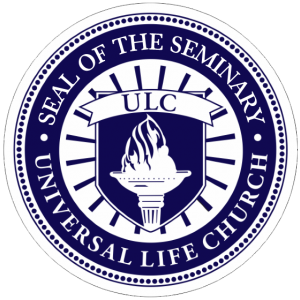 The Universal Life Church is a unique organization. The ULC allows people to become ordained first, and each person can choose later if they want to pursue specialized ministerial training or religious education.
ULC Seminary is the only recognized educational branch of the Universal Life Church. It offers expansive coursework and presents our community a variety of opportunities to explore different paths as ministers of the ULC. With a growing list of over 28 secular and inter-denominational online training courses, we believe the coursework is helpful toward extending services to our communities personally and professionally.
The Universal Life Church Seminary distance learning educational programs we offer will lead to Master of Ministry and Doctor of Ministry degrees.
For more information, you can visit our online distance learning education website at ulcseminary.org
About Enrollment and Course Program Requirements
All of the courses in our Seminary Program are offered by ULC Seminary. You do not need to be ordained by our church to enroll into any of our Seminary Program classes.
Each person can enroll into as few or as many courses as desired. Upon successful completion of ULC Seminary courses you will receive a completion certificate, and a minimum of 4 Seminary credits. Some courses earn 5 credits. At this time, we are granting 2 Seminary credits for successful completion of each certificate course offered by Modesto Headquarters, only if the course is ordered through this website.
Seminary credits are earned and applied to your student account after successfully completing our courses. Credits are not applied to Honorary degrees and diplomas as there is no course taken to earn any pass/fail grades with an honorary certificate.
Through ULC Seminary, any student can pursue their Master of Ministry and Doctor of Ministry diploma with the accumulation of their course credits.
ULC Seminary also offers a Chaplaincy Studies Program where upon successful completion of the program, the title of Chaplain will be bestowed to the program graduate.
—
((((Chaplaincy Program Only)))
Beginning January 2022, the requirements for completing the ULC Seminary CHAPLAINCY Program are listed below:
1. Acquire a current ULC Seminary Membership Certificate here.
You do not need to wait for your certificate to arrive to start any course. The certificate can be acquired at any time. However, you must hold a current standing of Student Membership in the year you submit to have completion of the Chaplaincy Program recorded. We like to recommend for you to always keep your membership status current to receive discounts for your ongoing education as you continue to progress.
2. Complete 10 ULC Seminary courses.
Seven of the classes (listed below) are required. Three others can be of your own choosing.
(You will simultaneously earn a Master of Ministry diploma as a result of accumulating 40+ credits.)
The Seven Required Courses for the Chaplaincy Program are:
Master of Chaplaincy Studies
Master of Comparative Religion
Master of Metaphysics – Spirit Quest
Master of Spiritual Leadership
Master of Spiritual Philosophy (aka Master of Spirituality)
Master of Religious Philosophy
Doctor of Spiritual Development
Choose Three Electives:
Select any three available ULC Seminary Courses
3. A time-requirement of 72 hours of volunteer and ministry work that Chaplains would fulfill must also be completed. The volunteer work must be approved by the administrators as acceptable for the program before proceeding.
You will be asked to write an essay about your volunteer work experience as a Chaplain when all other requisites are completed. The essay will go before our Board of Directors for review. Upon approval, the bestowal of your Chaplain title will be documented and your certificate of graduation from the Chaplaincy Program will be awarded.
Summary: A total of ten courses accumulating 40 or more credits, 72 volunteer hours and an essay about your experience as a volunteer Chaplain are required to complete the Chaplaincy Program.
The courses may be taken in any order of preference. You work at your own pace.
—
Additionally:
A Master of Ministry certificate is earned at 40 Seminary Credits.
A Doctor of Ministry certificate is earned at 60 Seminary Credits.
(To be awarded your Master or Doctor of Ministry Diplomas, your ULC Seminary Membership certificate must be in current standing.)
Shop ULC Seminary Courses